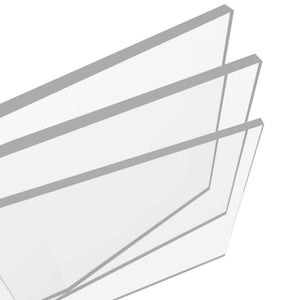 Experience the versatility of our premium clear acrylic sheets at Warlond Plastics. Combining superior strength, excellent clarity, and weather-resistant properties, these sheets are a go-to solution for a variety of projects. From creative endeavors to architectural applications, to window replacements, our acrylic sheets deliver the quality you need. Our custom cut-to-size services, alongside laser cutting and routering options, ensure a perfect fit for every project. Ideal for DIY crafts, signage, picture framing, and greenhouse construction, our high-quality clear acrylic sheets unlock limitless possibilities.
Please note, full-size sheets are available for pick-up only unless alternate arrangements have been made. We're more than happy to assist with freight quotes or accommodate your preferred freight service. Don't hesitate to contact our dedicated staff to discuss and arrange suitable delivery options. Discover the perfect balance of creativity and durability with Warlond Plastics.  
Please Note: All Full Size Sheets are priced for PICK UP ONLY.

If you need Full Sheets delivered, Please contact us for a shipping quote.
 Acrylic - PMMA - Poly(methyl methacrylate)

SHEET THICKNESS: 1.5mm,2mm,3mm, 4.5mm, 6mm, 8mm, 10mm, 12mm,15mm,20mm & 25mm.
LENGTH & WIDTH OF MOST ACRYLIC SHEETS:
​2440X1220
2440X1830


Click on the quote button below. We will get back to you with a quote.

With a large variety of applications ranging from building & construction, signage, point of sale to any glass replacement application. Available a wide range of colours and finishes, Cast Acrylic Sheets are used in many new and cutting edge designs.
Signage
Point of Purchase/ Sale
Display Cabinets
Shields / Guards / Sneeze Guards / Office Partitions 
Fish Tanks / Aquariums
Architectural
Medical
Hobby
Shop-Fittings
Skylights
Sound Barriers
FEATURES
Easy to Machine, Fabricate & Thermoform
Excellent UV / Weather Resistance
Resistance to Chemicals / Acids / Alkalis
Long Lifespan
Impact Resistance
Excellent Sound Insulation Properties
Excellent Sound Insulation Properties
Outstanding Light Transmission
30 Year Warranty on Clear
PRODUCT SPECIFICATIONS
Weather Ability - 30 Year warranty on Clear product. 10 year on Colours.
Surface Quality - Premium quality - consistent and smooth. Range of finishes - Gloss, Matte, Satin
Chemical Resistance - Good resistance to dilute acids and alkalies. Limited resistance to organic solvents.
Thermoforming- Easy to thermoform or drape mould over a wide range of conditions.
Handling - Easy to handle and work with for cutting, drilling, glueing, routing & lasercutting.
Service Temperatures - Max service temperature approx 80°c.
Based in Hoppers Crossing / Melbourne, we are able to ship your cut to size acrylic panels anywhere in Australia.
Other common trade names: Perspex, Acrycast, Plexiglass & Lucite.