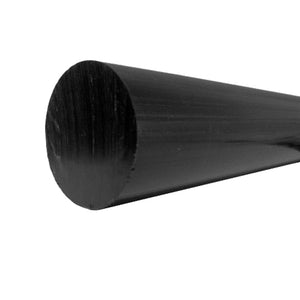 Warlond Plastics offers an extensive range of high-quality Black Acetal Rods. As a trusted leader in the plastics industry, we pride ourselves on delivering exceptional products with unmatched reliability. Our Black Acetal Rods, crafted with precision and expertise, are renowned for their superior mechanical properties and durability.
With a commitment to excellence, Warlond Plastics ensures that our Black Acetal Rods exhibit outstanding tensile strength, low friction coefficient, and excellent resistance to wear, chemicals, and moisture. Our dedication to providing top-notch materials means you can rely on the performance and longevity of our products for your critical projects.
As a customer-focused company, we understand the importance of versatility. That's why our Black Acetal Rods are available in a wide range of sizes and lengths, allowing you to find the perfect fit for your specific application. Whether you're working on engineering prototypes, industrial machinery, or consumer products, Warlond Plastics has the ideal Black Acetal Rod to meet your needs.
When you choose Warlond Plastics, you gain access to not only exceptional products but also exceptional service. Our team of experts is ready to assist you in selecting the right materials, answering any questions you may have, and providing support throughout your project journey.
Elevate your projects with the reliability and performance of Warlond Plastics' Black Acetal Rods. Experience the difference that quality and expertise can make. Browse our extensive selection today and discover why customers trust us as their go-to source for premium plastics.
Warlond Plastics are one of the largest online Melbourne based Acetal Rod and Sheet suppliers. Acetal is also commonly known name is delrin. These products are not sold at Bunnings these are specialized engineering grade machining rods and sheets We ship our Acetal all across Australia and the World. All of our Acetal products are shipped (Australia Only) for free. We also stock White Acetal Rod in multiple diameters and lengths.

Acetal Copolymer has great:

Machinability
Dimensional stability
Mechanical strength
Zero moisture absorption
Good load-bearing properties 
Ideal for close-tolerance plastic parts.
Chemical resistance to hydrocarbons, solvents and natural chemicals 
Applications:
Gears,
Bearings
Bushings
Rollers
Fittings  
Electrical insulator parts.
Rod diameters (Ø) available in:
6mm, 8mm, 10mm, 12mm, 13mm, 15mm, 16mm, 20mm, 25mm, 30mm, 35mm, 40mm, 50mm, 60mm, 70mm, 80mm, 90mm, 100mm, 110mm, 120mm, 125mm, 130mm, 150mm, 160mm, 180mm, 200mm, 250mm & 300mm Diameters.
Lengths (mm) available in:
245mm, 495mm & 1000mm
 

​