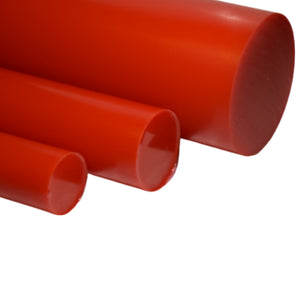 Take your projects to the next level with Warlond Plastics Red 90a Polyurethane rod. Experience unrivaled strength, exceptional flexibility, and outstanding abrasion resistance. From industrial applications to precision engineering projects, our top-rated Red 90a Polyurethane rod delivers unmatched performance and reliability. Enhance your project's efficiency and durability with this premium-grade and machinable solution. Order now and unlock the full potential of Warlond Plastics Red 90a Polyurethane rod for unparalleled results. Enjoy free shipping Australia wide on your order!
Key Benifits:
Exceptional Durability:

Red 90a Polyurethane rod offers unmatched durability for long-lasting performance in demanding applications.
High Strength:

With superior strength properties, Red 90a Polyurethane rod provides excellent load-bearing capacity for heavy-duty tasks.
Chemical and Abrasion Resistance:

Red 90a Polyurethane rod resists chemicals and abrasion, ensuring its integrity and performance in harsh environments.
Noise and Vibration Dampening:

The inherent properties of Red 90a Polyurethane rod reduce noise and vibration, making it ideal for noise-sensitive applications.
Versatility and Cost-Effectiveness:

Red 90a Polyurethane rod is versatile, compatible with various industries, and offers a cost-effective solution with long lifespan and reduced maintenance.
Applications:
Rollers, gears, and bushings

Suspension bushings, seals and gaskets

O-rings, and valve components

Impact bars 

Gripper pads

Vibration dampening mounts
Standard Diameter Tolernaces:
4-25mm Diameters -0.5/+1mm
30-60mm Diameters -0.8/+1.3mm
70-100mm Diameters -0.8mm/+2mm 

Please note:
If you have any concerns regarding the diameters please contact us before purchasing.