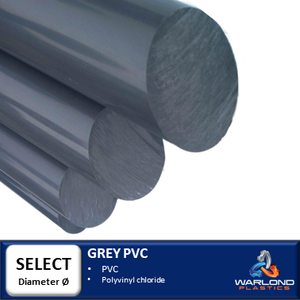 Warlond Plastics, the preferred wholesaler, presents Grey PVC Rods. Explore our extensive range of sizes and lengths to meet your requirements. Benefit from their exceptional strength, chemical resistance, and ease of installation. Perfect for construction, industrial, and DIY projects. Enjoy free shipping Australia wide. Order now from Warlond Plastics, your trusted source for high-quality Grey PVC Rods.
Key Benifits:
Exceptional strength: Grey PVC Rods offer impressive durability and robustness, ensuring reliable performance in various applications.
Chemical resistance: These rods exhibit excellent resistance to a wide range of chemicals, making them suitable for industries requiring resistance to corrosive substances.
Easy installation: With their user-friendly design, Grey PVC Rods can be easily installed and integrated into different projects, saving time and effort.
Versatility: Grey PVC Rods are highly versatile, accommodating diverse needs across construction, industrial, and DIY projects.
Trusted wholesaler: As the preferred wholesaler, Warlond Plastics ensures the highest quality and customer satisfaction, providing peace of mind for your purchasing needs.
Applications:
Chemical-resistant components:

 PVC rods are commonly used in the manufacturing of chemical-resistant components such as tanks, valves, and fittings, providing excellent resistance to a wide range of chemicals and corrosive substances.



Electrical insulators:

 PVC rods serve as effective electrical insulators in various applications, including insulating sleeves, connectors, and electrical enclosures, ensuring safety and preventing electrical conductivity.



Pump and valve components:

 PVC rods are utilized in the machining of pump impellers, valve seats, and seals, offering reliable performance in chemical and fluid handling systems.



Lab equipment and apparatus:

 PVC rods are suitable for machining laboratory equipment and apparatus, including reaction vessels, trays, and supports, due to their chemical resistance and electrical insulation properties.



Cable management systems:

 PVC rods can be machined into cable ducts, trays, and supports, providing a cost-effective solution for organizing and protecting electrical wiring and cables in various industrial and commercial settings.