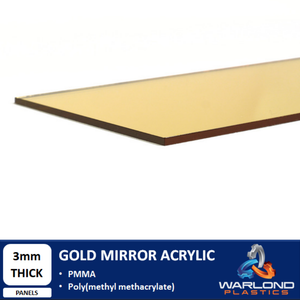 Enhance your space with the exquisite Gold Mirror Acrylic Sheets offered by Warlond Plastics. Discover the exceptional qualities of our visually stunning and highly customizable acrylic sheets. Experience the convenience of our custom cut to size service, ensuring the perfect dimensions for your specific project. Whether you require large panels or intricate shapes, our skilled team guarantees a precise fit, saving you time and effort.
For intricate designs and precise detailing, take advantage of our advanced CNC laser cutting and CNC routering services. Our state-of-the-art technology brings your creative visions to life with impeccable accuracy. Enjoy clean edges and smooth finishes, delivering the highest quality results for your projects.
At Warlond Plastics, we understand the importance of convenience. That's why we offer free shipping Australia wide on our standard size panels. Say goodbye to hidden costs and enjoy the ease of having your Gold Mirror Acrylic Sheets delivered right to your doorstep, no matter where you are in Australia.
Our commitment to excellence extends beyond our products and services. With a focus on customer satisfaction, we strive to provide exceptional support throughout your journey with us. Our knowledgeable team is always ready to answer your questions, offer guidance, and ensure a seamless experience from start to finish.
Elevate your space with the captivating Gold Mirror Acrylic Sheets from Warlond Plastics. With our custom cut to size service, CNC laser cutting and routering capabilities, and free shipping Australia wide on standard size panels, we make it easier than ever to turn your ideas into reality. Order today and experience the perfect blend of quality, convenience, and style.
We supply a range of standard sizes this includes:
A4 (297x210x3mm) 
600x400x3mm
600x600x3mm
900x600x3mm
1220x600x3mm
1220x1200x3mm
FULL SIZE SHEET AVAILABLE Click Link: GOLD MIRROR FULL SHEET
  Advantages compared to Glass Mirror include:
Cost saving
Weight
Impact resistant
Easy to cut and shape
Safer around kids
 Applications include:
Signage
Art displays
Mirror replacement 
Internal boat mirror
Arts and crafts
Installation guide:
Double sided tape

4 sided frame
Non acidic silicone (Check with Bunnings or 3M for further advice)
Mechanically fastened (Bolt / Screw)
Drilling guide:
Note: (Caution required) Use drill bits suited for drilling metal not wood. 
Drill hole 1.5mm larger than the screw, don't over tighten and drill 25 - 30mm away from any edge. 
Please note: Guides are suggestive and only serve the propose to assist. A guide and guide only.