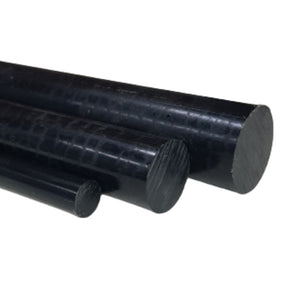 Experience premium quality with Warlond Plastics' Black Nylon 6 Extruded Rod, manufactured for durability and optimal performance. Our rod is made from high-strength, heat-resistant Nylon 6, ideal for a variety of applications including gears, sprockets, and bearings. Its outstanding load-bearing capabilities, low friction coefficient, and excellent wear resistance make it a smart choice for your industrial needs. Plus, with resistance to fuels, oils, and many other chemicals, our rod offers longevity and versatility. As a bonus, enjoy Free Australia wide shipping when you choose Warlond Plastics. Invest in our Black Nylon 6 Extruded Rod for a solution that combines strength, efficiency, and value for your mechanical and industrial tasks.
Polyamide - (PA)
Key Benefits:

High mechanical strength

Good fatigue resistance

High mechanical damping ability

Good sliding properties

Excellent wear resistance

Can be bonded with modern adhesives

Excellent oil and chemical resistance

Shock resistance and absorption
Applications:
Sleeve and slide bearings

Wear pads

Support and guide wheels

Conveyor rollers

Tension rollers

Sleeves for wheels and rollers

Pulleys and pulley linings

Bushes
Note: Nylon Rod finds difficult in damp or wet conditions where tight tolerances are also important, this is because Nylon Rod is hydroscopic which means that it will absorb moisture causing the material to expand, this may not be a problem but in tight tolerance applications this slight expansion may cause binding issues.
Other common trade names: Ertalon